Preschoolers love simple science activities and the beach so why not combine the two with these fun beach science activities for preschoolers. I've included a few beach-themed sensory play ideas too as they are so loved by preschoolers and often there is a science element in preparing the sensory activity like freezing sand, making slime of play dough. I hope your preschooler loves these super fun beach STEM activities this summer. Find more seasonal activities for kids here.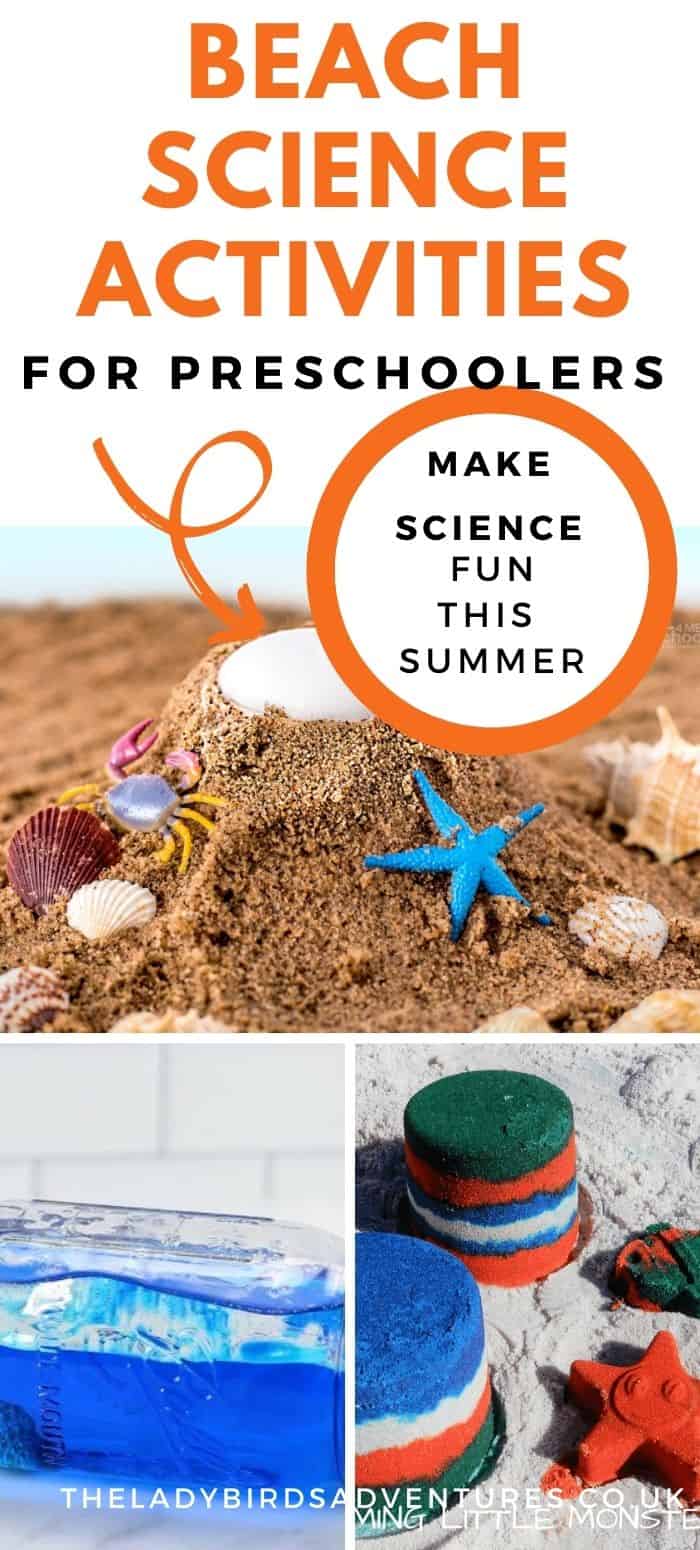 Ad – This post contains affiliate links. These are marked with *. As an Amazon Associate, I earn from qualifying purchases. If you purchase through the links I may earn a small commission at no extra cost to you.
Why are science activities good for preschoolers?
Preschoolers love being hands on and are naturally inquisitive so science and STEM is perfect for them. Not only that but starting science fun with them early could lead to a life long love of science. Beach-themed science can also teach them about why we need to look after our oceans and the planet.
STEM toys and tools for preschoolers
Introducing science to children can be super fun with STEM toys find the best STEM toys for three year olds here.
Beach science activities for preschoolers
Below you'll find the best beach science activities from around the web. I've done the searching for you so you can have a summer filled with beach-themed fun with your kids.
Photo Credit: www.123homeschool4me.com
You could definitely make this sand volcano in the garden or in the kitchen too but how fun would it be to make it on the beach? Take some STEM learning to the beach this summer with this fun sand volcano.
Photo Credit: littlebinsforlittlehands.com
This is a super fun hands-on learning activity for kids to learn about beach erosion. Demonstrate where the beach is going with this fun sensory play tray.
Photo Credit: littlebinsforlittlehands.com
Bring the ocean to your home and watch your preschooler have fun making their own waves in a jar. Teach them about the ocean with this simple and fun beach science activity for preschoolers.
Photo Credit: www.123homeschool4me.com
Perhaps you're kids love slime. If so why not add sand this summer and make this super simple beach sand slime. Your kids are sure to love it!
Photo Credit: thepreschooltoolboxblog.com
This is a lovely ocean themed sensory bag is not only great fun to play with but your preschooler can learn all about the turtle life cycle too. Make learning fun this summer.
Photo Credit: taminglittlemonsters.com
Can sand be coloured? Of course, it can. How fun does this coloured sand look? and it's beach-friendly too. Try teaching your preshooler about colour mixing with this fun beach activity. They'll have hours of fun creating beach art with it too.
Photo Credit: taminglittlemonsters.com
What happens when you freeze sand? How can we melt it again? This frozen sand sensory bin is not only fun to play with but there are some science experiments and learning to be enjoyed too.
Photo Credit: www.andnextcomesl.com
Another great preschool activity is sand foam sensory dough. Find this simple recipe and ideas for play here.
You could get your preschoolers involved with making some play dough to make this into a science activity or just let them play with the play dough and some shells. Either way they'll have hours of fun with this seaside themed play dough activity. All preschoolers love play dough right?
More beach fun for kids
Pin for later: