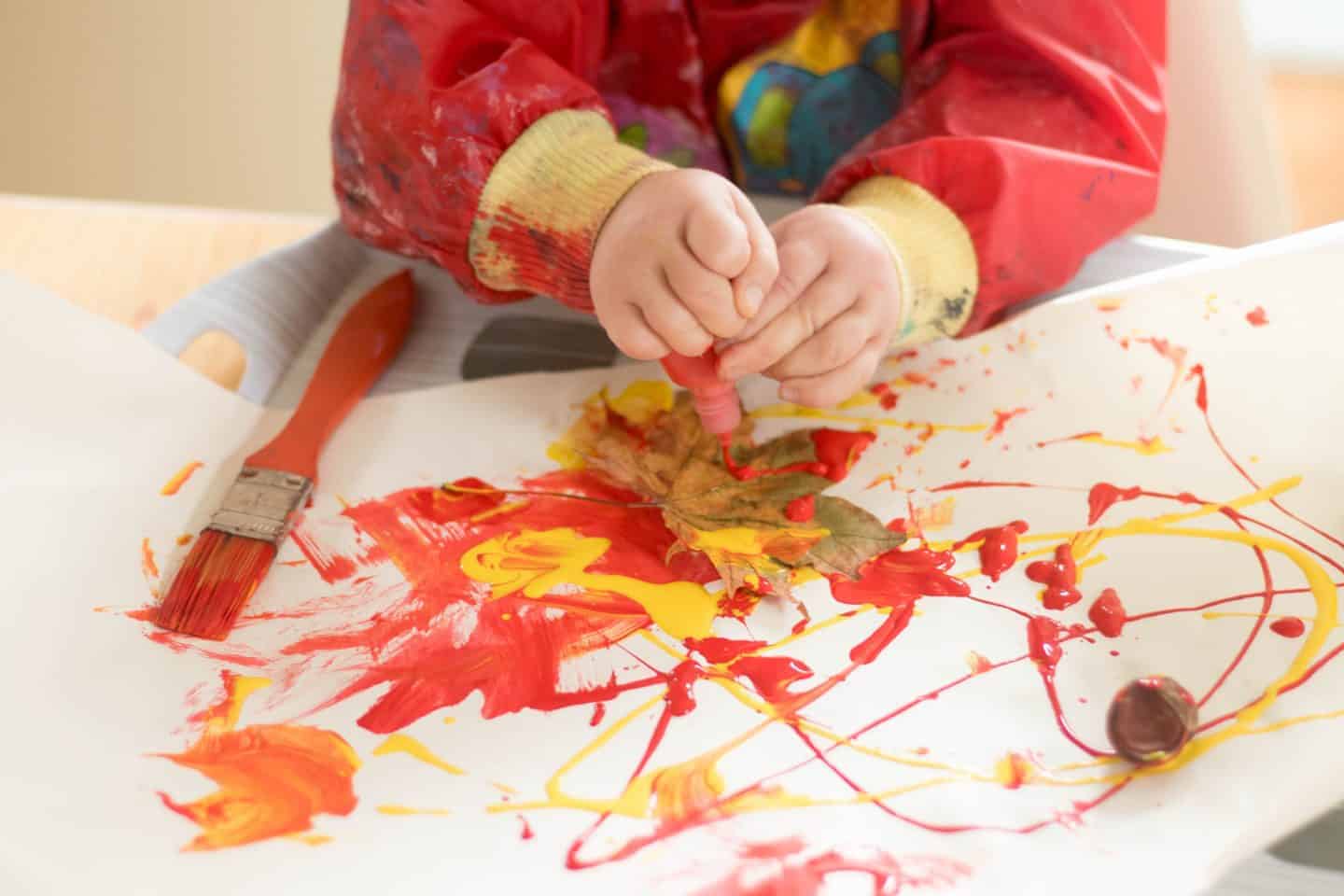 I love process art for toddlers and today I'm sharing an autumn (or fall) process art activity that's perfect for right now. If you're not familiar with process art then let me start by telling you a little about it. Process art is great for toddlers as the process is as important, if not more so than the end result. You provide them with the materials and let them create whatever they want to. As much as I love doing crafts with my two, especially my 5 year old, I find process art much more in line with what my toddler would like to do. We do crafts at playgroup and she loves the end result but I end up doing more of the craft than her and she would much rather just do what she wants.
Fall process art activity
You will need
Paper
Paint (we use washable poster paints)
natural elements such as conkers, acorns, pine cones and leaves
This activity is particularly perfect for autumn as it combines an outdoor activity with an indoor one. It also finds a purpose for all those "autumn treasures" that kids love to collect. How many walks have you come back from with pockets full of acorns, conkers and pine cones? I'm usually still finding them in my coat pockets in March. To start the activity, go on a short walk with your toddler to collect some natural elements like leaves, conkers and pine cones.
Once you have collected your natural elements and you are back home. It's really easy to set up an invitation to create for your toddler. I put some paper on a tray (this is a tip I learnt a while back, it helps contain the mess a little), add a paintbrush and some red and yellow paint (we had a couple of these little squeezy bottles left over so we used them up and my toddler loved drizzling the paint around the paper) as well as a selection of the natural elements you have collected. I justed used red and yellow as they are perfect autumnal colours and it also creates an opportunity to explore colour mixing. You could use any colours you wanted though or make it part of the process and let your toddler choose colours. Then let your toddler do what they want to do.
For the natural elements I added, Conkers, leaves and pine cones. My little girl ignored the pine cone and didn't really use the conkers that much. She loves painting the leaves as well as just simply painting with her paintbrush. When she started to lose interest, I cut an apple that was past it's best in half and showed her how to paint it and do apple printing which extended the activity for a little longer.
Other activities your toddler may enjoy this autumn can be found in this post and for a selection of autumn books that they may enjoy head to my post on autumn children's books. Don't forget to see my September activities for kids page for even more ideas for seasonal fun with kids.
Pin for later
Disclosure – This post contains affiliate links. If you make a purchase through these links, I may earn a small commission but this does not affect the price you pay.